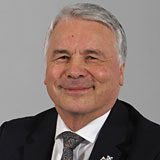 13 Sep 2016
12:00-12:30
LT2
The SCHOLAR Programme in Scotland
Proponents of e-learning, aimed at independent learners or combined with blended learning, for students within secondary and tertiary education have relied on relatively small scale studies to advance their case. The SCHOLAR programme in Scotland is designed for the post compulsory stage of secondary education with the aims of  transforming classroom practice though blended learning and encouraging independent learning by students. The large scale programme encompassing over 400 state and independent schools, enrolments of >130,000 students and circa 10,000 teachers, encompasses high quality web materials, revision exercises, formative assessment and feedback facilities, on-line tutorials and a discussion forum embedded within a  learning platform.   Formative assessment using a sophisticated assessment engine (Pass-IT) and feedback to teachers and students is fundamental to the pedagogical approach of the SCHOLAR programme.
Key to the success of implementing an effective national programme is convincing teachers of the benefits of educational technology.  For this reason, SCHOLAR also supports teachers and learners through professional development and student induction using their experienced peers. However, barriers to adoption by the mathematics community is revealed by the usage statistics across Scotland in comparison to other STEM subjects.
The presentation will explore some of the reasons for the reluctance of mathematics teachers to engage fully with e-learning.